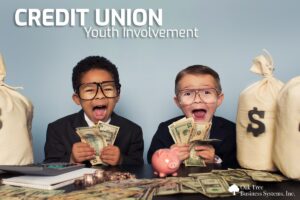 The youth represent the voice of a new generation and can give us a peek into what's to come. Trends among young people help us understand what people like, and give us an understanding of what is important to them. When it comes to finances, developing a generation of financially literate people starts with early engagement. This means getting young people familiar with basic money management skills, and a general introduction to the world of finances. Most credit unions are already doing this with activities, events, and programs geared towards the youth that not only market their brand but provide a valuable service to the community as well. Your credit union may be one of the ones already doing this, but there are always other ways and ideas to improve your methods. With that being said, we would like to share some of these ideas with you about credit union youth involvement.
The elementary and middle school demographic is becoming a top target for financial literacy programs. Students at this age seem to get engaged through interactive activities rather than lecture-based learning. Also, these programs don't have to stop once school is out of session. You can implement your programs in after-school clubs and even summer camps since they provide the convenience of having students together in a classroom-type setting. It is important to build strong relationships with your local schools and other programs so that you stay in touch with the community and have the opportunities to educate.
Another important opportunity for youth involvement comes from special education programs. These programs usually exist in high schools but are sometimes overlooked by credit unions. They also often include finances as the main focus already which makes it a perfect opportunity. In addition to helping your brand, you're providing a great service to a group of people who may not have had the opportunity elsewhere. It is a great way to exhibit the core characteristics of what credit unions are all about.
To build off the topic of high school programs, student-run branches are a popular way for credit unions to provide valuable employment experience to students and get them familiar with finances along the way. Again, building relationships with local schools becomes important for these particular circumstances. These relationships serve as a good opportunity for potential members, as well.
Ideas and opportunities for youth involvement are everywhere if your credit union is willing to look. Take advantage of the resources that are given to you. For example, a recent National Youth Involvement Board Conference touched on many of these same topics for credit unions to grow their engagement with the youth, and schools in your community would most likely be more than happy to implement new programs to educate their students. So, get involved!
Oak Tree has been a leading provider of credit union forms and disclosures for almost 40 years, and our commitment to credit unions doesn't stop there. We provide other services like compliance support or Spanish Credit Union Forms, as well. Also, be sure to check out our blog for everything from stories about credit unions in the community, to our contribution articles on other sites.