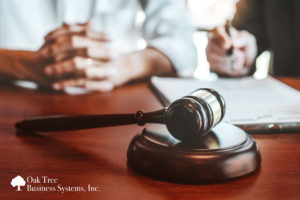 credit union compliance and compliance support is a cornerstone of everything we do at Oak Tree. Here is where Oak Tree directs the majority of its resources and with good reason. Forms compliance is one area that could spell disaster if overlooked. An auditor or regulatory agency issuing fines to your credit union for noncompliance can cripple the functionality and viability of your institution. No Credit Union wants to have these fines and avoiding these situations will keep your members happy.
The core of the issue is consumer confidence. Regulatory agencies make sure the information you pass on to your members is accurate; This can affect their financial life. No credit union sets out to provide inaccurate information. Yet, regulations change often, it can be hard to keep up. This is where Oak Tree's compliance support comes in.
Oak Tree's legal staff reviews all forms requiring state and/or federal compliance, and issues legal opinion letters for these forms. Maintaining your legal opinion letters on file at your credit union will ensure peace of mind in the event of a state or federal review or audit.
Periodic review of your forms for regulatory updates is just one more important feature offered by our Product Management Department. Are you prepared for new regulations? Then let Oak Tree update your forms to support those changes and assure your continued compliance. As
Compliance 50!
Covering all 50 states, Compliance 50! is the best compliance support for credit union forms and lending documents. Regulatory compliance is unique for each individual state. With Compliance 50! from Oak Tree Business Systems, Inc., your credit union forms, lending documents, and marketing services are handled. Our compliance is for the forms in English and in Spanish if your credit union needs Spanish forms, documents, and disclosures.