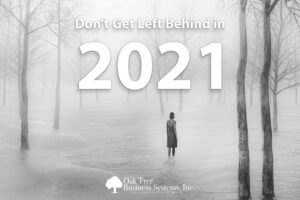 Have you and your #CUteam reflected back on the year 2020? If so, are you pleased with your marketing efforts and ROI? Or, is there room for improvement? If you're like us, you know there is always room for improvement! When it comes to marketing, there is also room for innovation and creativity as to how you will get your credit union's message and services out to your current and potential members. Don't get left behind in 2021!
Innovation is what marketing thrives on and within the credit union industry, you and your team have ample resources to ensure that your strategy for the remainder of the year, will be successful. Oak Tree is here to guide you and your CU on how to be innovative and remain ahead of the game. When it comes to the financial industry, it is hard to be "unique." With your competitors offering relatively similar products and services, standing out can be challenging. The following tips and suggestions can help your CU marketing team gain some leverage in an attempt to stand out from the rest.
Going mobile with your financial product marketing initiatives
You may have noticed, with the year we had in 2020, digital marketing is where the future of marketing will continue to go, and where your CU should focus its efforts. Going mobile with your CUs products and services while offering your members a seamless digital experience is where your CU can stand out. Doing business on the go is what your users are accustomed to, in fact, new research has found that we're spending five hours a day on mobile devices, and 90 percent of our mobile time is spent using native apps. This means any marketing plans for your CU must include a heavy focus on mobile marketing, by ensuring there is a CTA (call to action), making sure any sign-up forms are short and easy to complete, and you have a solid and easy-to-read design layout. Your mobile marketing is about acquiring engagement and getting your brand out there. Making a sale is just the cherry on top.
Creating educational content
Creating educational content that revolves around your products and services will be very beneficial for your current and potential members. Making the content clear and easy to understand, for someone who may not have prior knowledge about finances should be your CU's first step. According to a recent study, 45% of Millennials want financial products and services that help them with their budgets. Furnishing something that could assist users with budget-related issues that lead to solutions would set your CU apart from others, as well. Setting up a chatbot on your site that is available 24/7 to your users will also put you ahead of the curve while taking care of your members at the same time. People want instant answers and useful information, and you can give it to them!
Humanize your credit union through social media
As mentioned, social media and digital marketing are where your CUs efforts should lie. Credit unions are built on the relationships they have with their members and their ties within the communities they serve. Showcasing all the good your credit union does on your social media channels is a great marketing tool. Social media can provide a perfect medium to show the community that your CU is trustworthy, and it is a great way to humanize your credit union's brand. Allowing your credit union to open up on social media also gives you an advantage if any negative feedback comes in, you can be sure to be on top of it. Connecting with the community bolsters your brand and tells your credit union's story that could otherwise be left untold!
Don't get left behind in 2021, Oak Tree can help your credit union lock down your 2021 marketing strategy, and we have all the best tools to help you analyze, plan, and optimize while bringing that strategy to life. Contact us for a free consultation!