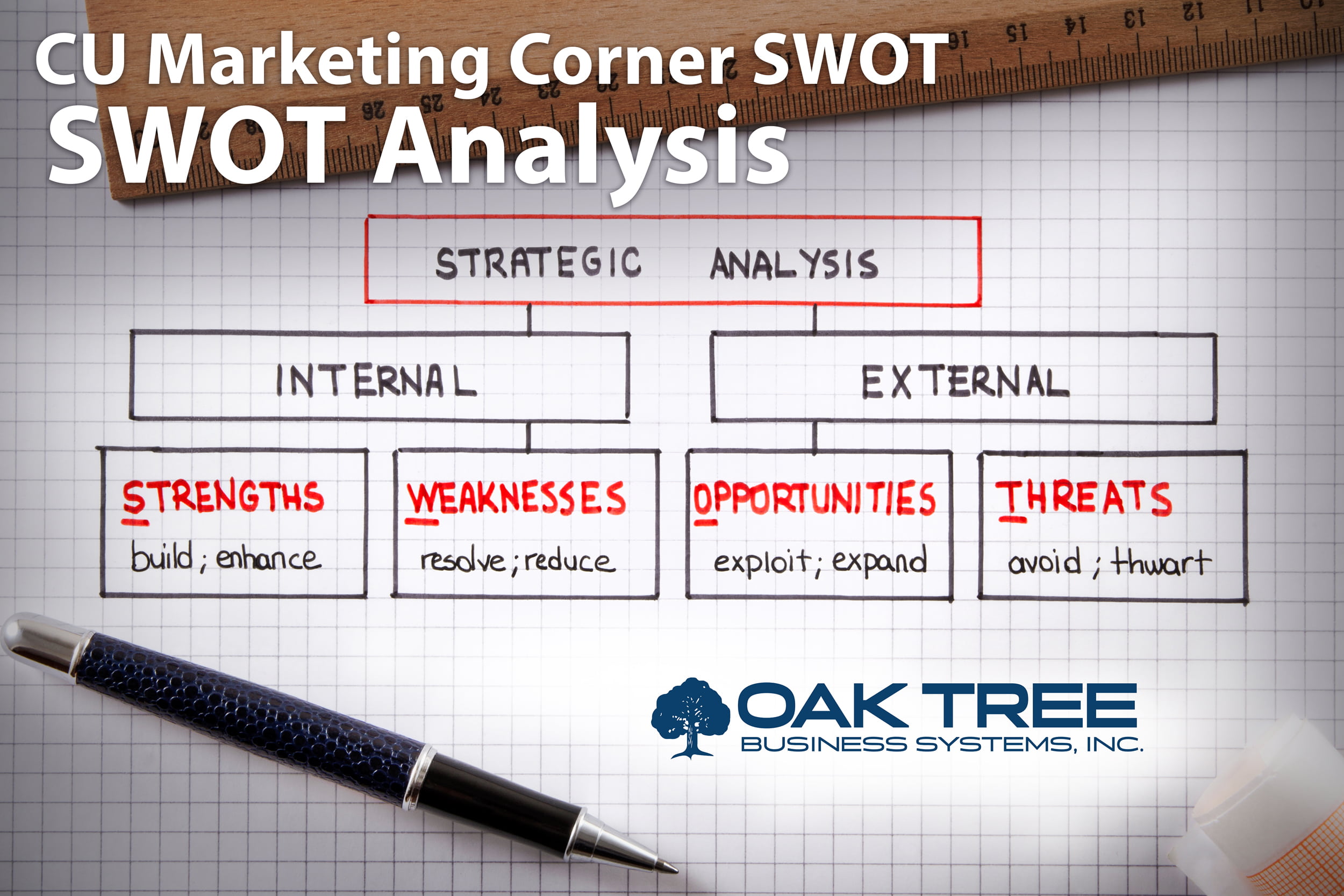 There comes a time when your credit union might be stuck, not seeing any results or any change. A time when you can take a step back to assess your position to get creative and think outside the box. If your credit union is in this position, wanting to make changes and redirect marketing efforts, the best place to start is the classic SWOT analysis. Even if you have done a credit union SWOT analysis before, it can always be updated. We want to look at Credit Union SWOT Analysis as it applies to your credit union.
This tried, and true exercise offers a way to explore your credit union internally and externally by analyzing strengths, weaknesses, opportunities, and threats. By asking and answering questions that pertain to your credit union and outside competition, you can uncover many pathways of promotional success. Following are the four-quadrant breakdowns and some sample questions to get you started!
Strengths
For any credit union, their strength comes from their member pool and so this is a good time to look at how much your members trust the company. That is a strength. Being a non-profit also helps give your financial institution some other benefits that can help, especially when it comes to the revenues leveraged from fewer tax obligations than some competition.
Strengths are your credit union's attributes and abilities that you can utilize in future strategies. These are things that you already possess.
What promotions have been successful?
Does your CU Team have special skills you can utilize in the future? (e.g., education, creativity, networking.)
What does your credit union possess in assets that can be used to your advantage? (e.g., members, branches, community, equipment, technology.)
What competitive benefits make the #CUDifference and put your credit union above the big banks?
Weaknesses
Every credit union starts with a charter and that can restrict your ability to gain more members due to the community you serve. Acknowledging this as a weakness allows you to look for new ways to expand the charter or ability to gain new members. Being a non-profit also means, for many credit unions, that there is less capital for infrastructure or new technology. It will be important to not invest in fads, but be ready to serve your credit union with the fintech it needs to better protect and serve your members.
Weaknesses are areas of your credit union's operations that can use some work or added attention in order to benefit fully from promotions or campaigns.
What are some aspects of your credit union that can be improved or can use a competitive edge?
Does your credit union need more of a physical asset to succeed?
Is your CUTeam putting their energy and talents toward the wrong direction?
Are you having trouble with branch location or online engagement?
Is your credit union marketing strategy working?
Opportunities
This is where Oak Tree can really help your institution because we offer membership forms that can be used for the next generation of young members eligible to join your credit union. Also, not all credit unions offer small business lending — and if you are one of those credit unions it may be time to see how Oak Tree Commercial and Business Lending Forms can help you.
Opportunities are external factors in your "CUCommunity" that your institution can take advantage of for potential growth and success.
Is there a FOM expansion or more significant market trend that your credit union can take advantage of to promote financial services and grow your membership?
Can your credit union engage in community events and business partnerships to grow awareness and community support?
Is your credit union website ADA compliant?
Is your FOM growing due to regulation changes? Are there increasing numbers and businesses that can apply to your credit union?
Do your current members trust you as their primary financial institution?
Threats
The first threat that all companies must look at is their direct competitors. We've all heard some company or CEO claim they "have no competition", but that is simply untrue. Even if you have 99% of the market share there is always some competition out there, even if they are not a threat yet. For credit unions the threat is usually some bank or other credit union. Today there is also a rise in fintech firms offering the services of other conventional financial institutions and so these must be acknowledged and monitored.
Threats are negative factors that you have no control over and cannot likely change. Always keep account of threats to prepare for speed bumps.
Are competing banks and credit unions expanding in your area?
Is your Credit Union Community economy stable, growing, or declining?
Is your credit union engaged in evolving with fintech and credit union innovation?
And is your Credit Union Community seeing lending rates drop?
Take some time to fully answer the SWOT analysis to start off in a good direction. Knowing where you stand, where you exceed, and what can improve is essential as a strong foundation for building a strategy for growth. Oak Tree can help your credit union analyze, strategize, and optimize. Contact us today for a free consultation.