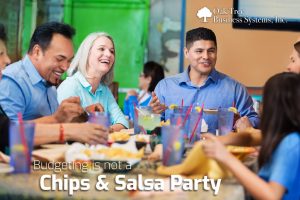 In a commentary article posted on credit union Management, our CEO, Richard Gallagher discusses how budgeting's not a chips and salsa party. At times can be mundane, but it is necessary for your credit union.
The Lifeblood

Budget allocation for credit unions should ultimately be about growth and stability, but always with respect to net revenue. Viewing that as the heartbeat keeps allocation honest. Without strong net revenue, there will be no asset growth. This will affect things like operating expenses and credit losses. Your credit union will have to either lighten the load or encourage asset growth to keep net revenue healthy. Of course, the latter is preferred. 

One of the greatest assets of mobile banking is 24/7 access. Members can check loan balances at any time, just as There are a few things you can do right now to see whether your budget is in line with current net revenue. First, go over each line item and compare it to past years' budgets. Are there any blatant discrepancies? If so, look into them and find the cause. Chances are you will find one of two things: Either the expenditure in question cost more than anticipated or it did not produce as expected. Any item that is a cost drain or does not address productivity will have a negative impact on net revenue.

Once you find those items, take time to go through them and determine the underlying issues. Correcting them mid-year during allocation planning will keep net revenue strong and healthy. 

Richard Gallagher
To read more about how your credit union can successfully allocate your budget go check out the CU Management article and then check out our lending documents for your credit union.
(note: this is an older blog entry and has been edited since originally posted.)