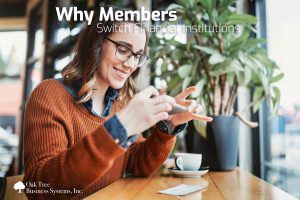 In an expert opinion article posted on credit union Times our CEO, Richard Gallagher, discusses how members switch financial institutions and offer advice to keep their support.
With apps, websites, customer relationship analytics, and the changing needs of multiple generations, financial institutions are feeling the pinch. Consumers are using the competition to their advantage, switching financial institutions as they please, often for better rates, terms, or customer experience.

What Causes Members to Switch?

Nearly 50% of consumers switch financial institutions at least once in their lifetime. And 56% of consumers use more than one financial institution to handle their money. While you can blame bank switching on consumers' life circumstances, research shows that switching falls more on the financial institutions themselves.

The vast majority of consumers are transaction-based, using your credit union as a service, and around 12% are relationship-based, according to research from EVERFI. A relationship-based consumer is looking for financial education and advice. Although this percentage may seem insignificant, it is the relationship-based consumers who use more than one product or service and remain loyal over a longer period.

Richard Gallagher
To read more about how your credit union can increase its lending growth opportunities go check out the CU Times article and then check out our lending documents for your credit union.
(note: this is an older blog entry and has been edited since originally posted.)