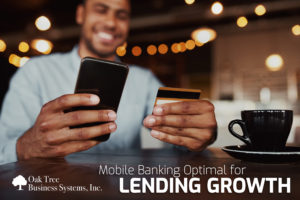 In a commentary article posted on Credit Union Times our CEO, Richard Gallagher, discusses how mobile banking optimal for lending growth at credit unions is so important. A crucial topic as credit unions seeks to connect with Millenials.
Mobile banking allows credit unions to compete with larger financial institutions. It gives them a competitive edge and greater flexibility. It is also great for lending growth. A study by the Federal Reserve reported that "67% of millennials now use mobile banking, compared to 18% of consumers age 60 or over. This usage gap is projected to widen even more, as 85 million millennials, prone to using their mobile devices for banking, are coming of age." This translates directly into an increase in lending growth. Here's why.

Lending Growth and Mobile Banking

One of the greatest assets of mobile banking is 24/7 access. Members can check loan balances at any time, just as they would their checking or savings accounts. They may also have access to other crucial pieces of information, such as principal balance and next payment due date. All of this serves to increase lending growth, as consumers are constantly looking for efficient ways to manage their financial lives.

Richard Gallagher
To read more about how your credit union can increase its lending growth opportunities go check out the CU Times article and then check out our lending documents for your credit union.
(note: this is an older blog entry and has been edited since originally posted.)