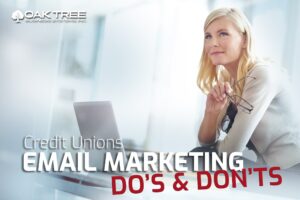 Building a community through digital channels is very powerful in the advancing digital age. Accessibility to your members is easier than ever if you know where to look! It is the responsibility of a credit union to your members to keep them informed and to promote financial services to qualifying members. Email marketing is a great tool to use when looking for engagement metrics as well as an automated contact channel. Email marketing has the potential to grow your credit union and its services when done well. Here are some tips to up your email marketing game. Check out our credit union email marketing do's and don'ts.
Do's:
1. Be aware of your target audience—Speak the persona that you intend your email to be understood by using certain tones. Focus on your field of membership (FOM strategy).
2. Define the purpose of your email—Use a good subject line that is most likely to be opened while avoiding spam words and sales-like terms.
3. Deliver value for the customer—your credit union email should directly convey the value of your services in terms of solution and benefit. Finance literacy is key for your credit union members' knowledge of what your credit union can offer.
4. Leverage word of mouth—Use customer reviews and member spotlights as an added signifier of community and trust. Explore credit union referral programs.
5. Use eye-catching language and UX design—Effective tone and design can make any email stand out! Have a creative team to back up your credit union brand and help your credit union members achieve their credit union lending dreams.
6. Add your headshot/credit union images in the email signature—This personal touch creates a "real person" feel to a bulk/automated email.
7. Experiment with the call to action and promotions; A/B testing—Try different subject lines and promotions and track what is more successful while growing your email skills. Credit Union
Don'ts:
1. Use redundant words/technical jargon (unless required)—Everyone favors certain words but no need to show that in an email, expand your vocabulary for your audience. Simplify your message for your members to something that can be understood by many ages and comprehension levels.
2. Don't share full blogs in an email—Give your members the option of going to your credit union website to learn more and follow your credit union blog.
3. Forget personalization—Everyone likes to feel special now and again, include your recipients' names to take away the "mass email" feeling.
4. Make the email too long—Keep your email short and concise so as to keep the attention and convey your message!
5. Over promotional—Sales-y speak can often get your email deleted from many an inbox, try and make different connections between consumer needs and helpful service.
6. Spam filters—Certain terms and titles can put your email directly into a spam folder, make sure you look into current spam indicators.
7. No option to unsubscribe—Always provide the option to opt out of receiving emails from your CU. Especially when sending emails about event campaigns.
8. Not formatting for mobile/devices—Most emails and communication is through mobile devices so make sure to format for this.
Do you know of any great Credit Union Email Marketing Dos and Don'ts?
Digital is king and when used wisely can rocket your institution into success as well as grow your digital community! Contact Oak Tree today for a FREE consultation in compliant email marketing campaigns or visit us on our marketing services site. #MarketingTips #CreditUnionMarketing