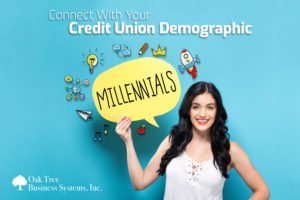 It's no secret that the best way to keep business consistent is to be in touch with your demographics. Today, that means connecting with Millennials by creating a sense of community. They have an estimated $200 billion purchasing power, and as such, they cannot be ignored. Most brands don't want to ignore them but struggle with ways to connect. Companies find it hard to create meaningful relationships with Millennials. Part of the reason is that they thrive in the space we call social media. And while most businesses use it for marketing, Millennials use it to connect. You need to, as well. Follow the tips below to make your tweets and status updates more relevant and engaging. Here are a few important ways to connect with your CU demographic.
1. Be open and take a stand. 
This is perhaps the first rule when dealing with Millennials. They love transparency and authenticity. It makes your brand more human and strips away some of the inherent skepticism the group is known for. Since most brands use social media for the promotion of products and services, there is a tendency for Millennials to discount them as being dishonest or purely out for profit. When you allow yourself to be a bit more transparent, it speaks to your ability to be vulnerable. That will build trust among youth.
2. Make sure your brand is positive. 
Millennials need to have a very upbeat, exceptional experience with your brand. This means staff and employees need to be friendly (and they probably already are). Yet, on social media make sure your posts carry the same tone. Millennials are known for sharing their online experiences with friends, which translates into more potential members for you, as long as you maintain an upbeat, positive environment.
3. Put the focus on the friend factor. 
People buy, simply because they trust the person selling. Remember, people don't buy from a brand; they make a purchase from an individual. Therefore, try to find a new influencer who has had a positive experience with credit unions, and mention them in an update, tweet, or Instagram post. It's a great way to spread authority and connect with a group of people who are known to be skeptical by nature. Employing an authentic influencer strategy will elevate your social media marketing.
4. Use video the right way. 
Over the past few years, video content has been on the rise. The fact that Millennials love it has given headway to popular platforms, like Vine. You have to pay attention, though. While YouTube is known for producing quick 3 to 5 minute videos, Vine clips are typically six-second bites. They are easily digestible, and therefore must be content-rich. Make sure the videos you post employ the same tactics. Make sure they are relevant to Millennials, and you greatly increase the chances of your content getting shared widely.
5. Understand future expectations. 
It's important to keep in mind that sooner, rather than later, Millennials will be part of the business decision-makers that run our world. It's important to understand that what is now seen as a commodity, will become an expectation. Brand connections and seamless digital interactions will be expectations, rather than nutrients or fads. This could have a huge potential for business, but the implication here is to keep you on your toes so you don't get left behind the curve. It's all about creating a very personal experience for a younger generation. Our membership application package is perfect for beginning their relationship with you. We even have Spanish forms available. Our compliant, fillable forms are another way we help you stay connected with this demographic. They allow you to conduct business at a high rate of speed and speak to your understanding of the need for technology to keep transactions fluid. The moral of the story is: if you want to make an impact on a $200 billion market, you have to know how to speak the language and speak it well.
Chat with us for help increasing your credit union demographics by using Oak Tree forms or our marketing services. We know how to connect with the credit union demographic.