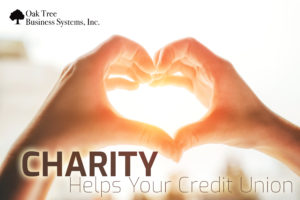 There is no question that donating and being active in the community helps brand awareness and image. In the case of credit unions, it goes deeper than that since institutions are heavily centered on members. This is why it is important to maintain a positive presence in the community. Considering a majority of your members make up that population and have come to expect nothing but the best. There are articles helping spread the word on how charities help your credit union and it makes great press!
Being active with your community and your members takes on many different forms. We see credit unions do anything from present checks to organizations, sponsor events, have fundraisers, and even donate to their members directly through contests and giveaways. Simply being aware of community events and causes is a great way to start planning a charity campaign. Take notice of the types of activities your members are involved with and develop ways to cater to them. There is no shortage of ways to show you care about your community and it is all up to your institution to find a way to do so.
With that being said, your efforts do not go unnoticed. Your members appreciate being taken care of and your community will see the benefits of your support. After all, the whole point of doing charitable work is to create a better environment and to help people. Show them what the credit union difference is, and remind them of why they chose to bank with a credit union in the first place. Also, when you create a positive image for your credit union it opens the door for other opportunities. Not only do you get the satisfaction of doing something positive, but you also get the added benefit of people wanting to share your kind actions. This can develop into a great marketing strategy for social media platforms and other outlets.
Even Credit Union Vendors Participate
At Oak Tree, we encourage your credit union to give back as much as they can to help maintain a positive image and to keep members happy. We love to see the awesome things going on in the credit union community every day and are always looking for a feel-good story. We love acts of charity so much that we write about them in our weekly Humanitarian Highlight blogs on our website. Check them out to see all of the great things happening in the credit union world, and hopefully, we can feature you next!
Speaking of charity and the credit union community, we also wanted to remind you how this weekend begins the SacTown Virtual Run for 2021, a great cause to help the Children's Miracle Network of Hospitals.
If you have questions about any of our products, feel free to send us a message at ClientServices@oaktreebiz.com.