credit union Lending Documents and Insurance Integration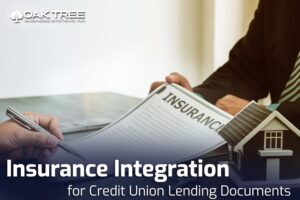 You might be aware that Oak Tree has provided quality-compliant forms for almost 40 years. However, are you aware of what we do with insurance carriers? It's a win-win for your credit union and your members. Oak Tree has great insurance integration for lending docs from credit unions. Here's why:
Oak Tree has a one-of-a-kind relationship with credit union Insurance Carriers, which allows credit unions to pick and choose which provider they prefer. Without being tied down to any particular insurance carrier, credit unions have the freedom to partner with the Insurance Carriers that provides their credit unions with the best product fit. This gives us a national scope in regard to insurance and allows us to provide the best in forms customization in the industry.
While information given at these conferences is sure to keep you in the loop and up to date with current industry trends, remember one thing: All credit union forms and lending documents offering insurance must be compliant. This is where oak tree business systems, inc. comes in and makes our partnership with insurance carriers so valuable. All of Oak Tree's forms are current and up-to-date with respect to state and federal regulations, which ensures that when your members mark the "check box" and affix their signatures to the election field, they have done so in a manner that conforms to all applicable regulations. Choosing Oak Tree Business Systems, Inc. as your forms provider in partnership with your choice of insurance carrier, safeguards your credit union from compliance issues.
Furthermore, our partnership with credit union insurance carriers keeps you one step ahead of the game. Pairing our forms solution presented insurance offerings in an easy-to-read and clear manner, encouraging your members to opt into these insurance benefits. This allows for your credit union to benefit from non-interest income. It is a marriage of trust and efficiency.
If you have questions about compliance or forms integration in regard to insurance carriers, contact us by emailing us at ClientServices@OakTreeBiz.com. We will work with you to answer any questions, and come up with a viable solution for your credit union.