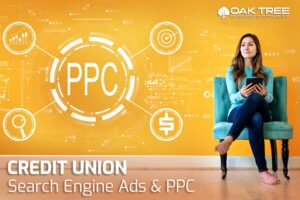 Marketing techniques are shifting and changing with the evolution of technology. Pay-per-click advertising is a widespread popular tool in Search Engine Optimization (SEO) and targeted digital marketing. Google Ads is widely infamous for being a go-to strategy for digital advertisers for many reasons. The cost-effective solutions share many opportunities to grow internal data and help narrow down sales funnels for membership and consumers who are looking for your credit union's services. To get more members and to get them to increase their lending it is important to understand credit unions' search engine ads & PPC.
Using keywords is important in all aspects of SEO to get your credit union recognition in digital searches. Using search engines advertising programs like Google Ads or Bing Ads will help you track and record essential metrics of your efforts and assist in providing Key Performance Indicators (KPIs) to refine your ad and website components. Before reaching further into the advantages of using platforms for credit union digital marketing campaigns, let us first briefly introduce what pay-per-click advertising is.
What is Pay-Per-Click Advertising?
PPC advertising is aptly named for its definition: "an online advertising model in which advertisers pay each time a user clicks on one of their online ads." Wordstream.com Using a variety of platforms, your credit union can use search engines, websites, and more to display linked advertisements for current and potential members to find when searching for relative keywords and services. Using keywords (i.e., "credit cards," "auto loans," "credit union," "best banking"), your platform budget will bid on relevant and well-searched keywords to display for targeted consumers to find for impressions, clicks, and conversions. Now that we have some basics down, the following are the benefits of using Google Ads and other similar PPC services to promote your credit union and its services.
Benefits of PPC Services
Oak Tree Marketing Services can make PPC advertising a part of your credit union campaign marketing strategy with fast and easy setup, analytics tracking and reporting, and persona and demographic targeting strategy. Contact a marketing specialist today to learn more about how Oak Tree can help your credit union grow in the technological age with a variety of digital marketing tools!
To learn more about PPC and SEO, check out the Credit Union SEO Webinar we did a little while back.