Important Tips on Credit Union Email Marketing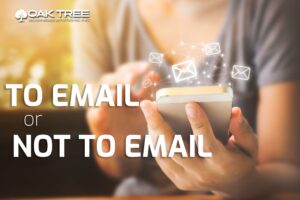 We already went into some important rules on email marketing in our Email Dos and Don'ts article, but there is always more that can be discussed about this powerful and cost-effective tool for reaching your members with your services and promotions. Email brings up many compliance risks, and so it is something that should be reviewed. So let us help you with knowing when to email or not to email credit union members.
Why should you continue or create an email marketing strategy?
Most consumers prefer email, and so marketing through their preferred media makes sense. Email is also one of the most cost-effective methods to get your message out to the masses. There is also the fact that email is permission-based. This means someone has to approve the emails, or at the very least, they have the ability to stop the emails. Email is also convenient for the consumer as well as the credit union since they can engage with the brand anywhere they go, and very easily.
What should I use email for?
Consumers love promotions and coupons. Who wouldn't want to save money on a product or service they need or want? This is the same for contests or rewards programs. You can notify your members of news and updates about the credit union, or your products and services. There are many purposes that you can use emails for.
How do I do it?
There are many providers to help in creating your email blasts, and they are very cost-effective. When you are running your email campaigns, it is important to be aware of the pitfalls that could end up costing you, though.
Let's go over some important rules when emailing your members marketing materials and creative content. Official rules can be found on the FTC website, and are required for email communication from businesses to consumers. The rules are pretty simple, and it is important that you do not try and work around the basic boundaries, as they are there to protect your members – just like you!
Get consent from your members to use their email addresses for e-communication, and let them know that you are using their info for that purpose. Give them the option to "opt-in," and always offer email updates and newsletters to your members when interacting in-branch, and in your online communities. Don't miss opportunities to have members go paperless with the latest news your credit union has to offer.
No misleading information
Avoid misleading information, especially in your subject line! You need to be clear about the content of your email. Your members should not think they are opening an email from a known close friend, but a friendly neighborhood credit union with beneficial rates and services! With so many phishing scams and email hacking going on in the digital age, a clear subject line actually increases your chances of getting your email opened and read, whereas misleading subject lines are becoming more of a red flag.
Based on the FTC guidelines the following tips are very important:
Don't use false or misleading header information. Your "From," "To," "Reply-To," and routing information – including the originating domain name and email address – must be accurate and identify the person or business who initiated the message.
Don't use deceptive subject lines. The subject line must accurately reflect the content of the message.
Identify the message as an ad. The law gives you a lot of leeway in how to do this, but you must disclose clearly and conspicuously that your message is an advertisement.
Tell recipients where you're located. Your message must include your valid physical postal address. This can be your current street address, a post office box you've registered with the U.S. Postal Service, or a private mailbox you've registered with a commercial mail receiving agency established under Postal Service regulations.
Tell recipients how to opt out of receiving future emails from you. Your message must include a clear and conspicuous explanation of how the recipient can opt out of getting an email from you in the future. Craft the notice in a way that's easy for an ordinary person to recognize, read, and understand. Creative use of type size, color, and location can improve clarity. Give a return email address or another easy Internet-based way to allow people to communicate their choice to you. You may create a menu to allow a recipient to opt-out of certain types of messages, but you must include the option to stop all commercial messages from you. Make sure your spam filter doesn't block these opt-out requests.
Honor opt-out requests promptly. Any opt-out mechanism you offer must be able to process opt-out requests for at least 30 days after you send your message. You must honor a recipient's opt-out request within 10 business days. You can't charge a fee, require the recipient to give you any personally identifying information beyond an email address, or make the recipient take any step other than sending a reply email or visiting a single page on an internet website as a condition for honoring an opt-out request. Once people have told you they don't want to receive more messages from you, you can't sell or transfer their email addresses, even in the form of a mailing list. The only exception is that you may transfer the addresses to a company you've hired to help you comply with the CAN-SPAM Act.
Monitor what others are doing on your behalf. The law makes it clear that even if you hire another company to handle your email marketing, you can't contract away your legal responsibility to comply with the law. Both the company whose product is promoted in the message and the company that actually sends the message may be held legally responsible.
It can seem daunting to look at the many things involved in running a legitimate and compliant email marketing strategy. That is why Oak Tree Business Systems, Inc. is here for the credit union community. We are ready to help you strategize and create an awesome email blast campaign that drives your membership numbers and other lending growth numbers. If you have something to add about when and what to email or not to email credit union members, then please let us know on our social media or below.
Contact us today MarketingServices@Oaktreebiz.com or visit our website's Marketing Services Page to get started.