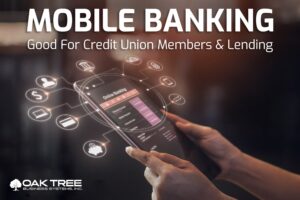 Credit unions are constantly looking for products that are both good for their members and good for lending growth. Finding something that fits both specifications can be challenging; yet with a little digging, you can strike gold. Mobile banking happens to be one of the areas where more than a few good nuggets exist. Let's unpack it a bit further and explore the benefits that are beneficial to both aspects mentioned above. Mobile banking good for CU members & lending at all credit unions!
First, a little bit of backstory. In the eighth annual billing household survey conducted by Fiserv, an interesting statistic emerged. Their findings show that there was a huge increase in households that use more than one method of payment to pay their bills. That number is now 90%. While that may not speak to mobile banking as much, it does speak to consumers. It is loud and clear that they want options. In fact, they demand them now. This is where mobile banking is crucial for members. When looking for fillable forms for mobile banking, remember that Oak Tree provides your credit union compliant forms for membership documents, consumer lending, home equity lending, and business lending.
Mobile Banking Gives Members a Choice
Offering mobile banking to credit union members gives them the power of choice in the form of continuous access. They can access their financial information at any time. They can also choose to receive paper statements, but the convenience of checking their accounts online is satisfying. It is keeping them in the know and up to date regarding recent transactions. Having 24/7 access has become an expectation. It is part of living in a fast-paced digital world. Mobile banking is indispensable in this regard and so is Oak Tree for your credit union lending documents.
Mobile Banking Gives Members Flexibility
This aspect is a great selling point for credit union members. Most mobile banking systems are comprehensive, allowing members to perform functions such as:
Online account management
Money transfers
Online bill pay
Credit score assessment
Electronic statements
Budgeting tools
Retirement planning
eDeposits
Card services
Car Buying services
ATM/Branch location information
Travel notifications for card usage
Having access to all of these features gives credit union members the flexibility they need to control their financial lives. It also keeps everything in one place. Rather than logging into several different online accounts, members simply log into one place and have access to all of the financial tools they need. That's the ultimate goal in financial flexibility.
How Mobile Banking Encourages Lending Growth
So, how does mobile banking play into lending growth as it relates to credit unions? The answer is straightforward, yet indirect.
When pitching mobile banking services to credit union members, mention the fact that they can check loan balances in addition to regular checking and savings account balances. The accessibility of having this information at hand will keep them up to date and informed. They will know when their next payment is due, how much they have left to pay on the principal balance, and how early payments will affect the amount of interest owed.
Rather than receive another bill in the mail, they can simply log on and check the balance just as they would normally. They have one user name and password to get access to all of their account balances, all of the financial planning tools, and any other freebies such as budget or credit score assessments offered by your credit union. This is why it's always a good idea to mention the convenience of mobile banking when pitching an auto or home loan to a member. Oak Tree can set up forms to include digital signatures and optical storage with most systems.
Finally, having a great online banking system could encourage more members to make the switch from their current financial institution to your credit union. More members translate into more people to pitch your lending products to. It is, ultimately, how mobile banking works together for the financial stability of credit union members while encouraging lending growth for the credit union itself. With 90% of households demanding different choices now more than ever, it might be a good time to look at your mobile banking system and see if it offers everything your members are looking for. If not, it might be worth making the investment to offer more choices with your mobile banking experience. It could drive more members to you, which could easily translate into more lending growth for your credit union.
So, should your members need mobile banking, you can rest assured our Oak Tree documents and lending packages are the perfect complements to the process. All of our forms are up to date, and compliant with all state and federal regulations. They are easy to customize and can be tailor-made to reflect your brand. In addition, Oak Tree forms integrate with any data processor. This allows for convenience and flexibility, so you can remain accessible to your members, and help them achieve their financial dreams. Email us at clientservices@oaktreebiz.com or chat with us at www.OakTreeBiz.com.