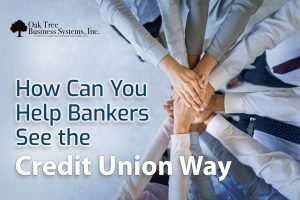 How Can You Help Bankers See the Credit Union Way?
Has your credit union recently experienced a merger? With the rise of credit unions becoming part of the community bank-buying trend, it is very possible that your credit union and its members may be experiencing this, or may in the future. To convert bank customers to credit union members it is important to ask "how can you help bankers see the credit union way?"
A handful of banks have sold their branches or whole operations to the credit union industry since United CU started the trend several years ago. Since 2012, there have been 63 more deals involving 51 credit unions in 24 states, according to data from Callahan & Associates. With those numbers, it is clear to see how it has become a steady trend in the industry. This is a common practice, and your main priority as a CU leader is to ensure that your members, as well as the customers of the bank you are acquiring, have a smooth transition.
Keys to a Successful Transition:
Communicating clearly
Ensuring you keep an open line of communication with your members—as well as the new members your credit union will be welcoming—is going to be your most important step in transitioning seamlessly at your CU. Explaining to members how their accounts will be handled, as well as providing information packets, will be helpful and can ease the new transition. The idea of holding a town hall meeting and employee information sessions are great tactics to implement.
Keeping existing staff, if possible
One of the bank's main concerns will be the relationships its employees have built. A great way to help bank customers–turned–credit union members is to (if possible) keep current staff. Maintaining that constancy will be a great way to make sure the new members feel welcomed to their new "home." Having that familiar face still there to greet them will make all the difference in the transition. Usually, smaller community banks have the same values as credit unions. They pride themselves on helping their members and being part of the surrounding community's growth. Making sure your new members understand that you hold those same beliefs and ties within the community should put them at ease with whom they now bank. Also, allowing members access to a "transition team" through the entire merging process would be very beneficial for your credit union and those you serve.
Learning from the experience
As you can imagine, if your credit union is going through a merger or will be going through one in the near future, there is a lot to take away from the experience. Accepting feedback from your members and your customers-converted-to-members would be a great place to start. Asking them if there are any products and services that can be enhanced, or anything they would like to see done differently will give your CU staff a greater insight on changes that would accommodate a better banking experience. As long as your credit union continues to serve its members and community, you're already on the right track toward success.
Here at Oak Tree, we have over 37 years of experience in the credit union industry. We have dedicated our time and resources to better impact the #CUindustry, and have the tools and knowledge to assist your credit union on the road to success.