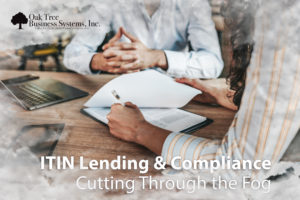 Cutting Through the Fog
In a credit union Times Expert Opinion Column, "itin lending & compliance: Cutting Through the Fog," Oak Tree`s CEO talks about ITIN lending, and how it represents growth opportunities for credit unions. Here is an excerpt from the article about ITIN Lending & Compliance:
" ITIN lending represents a solid marketing demographic for credit unions. Is your credit union taking full advantage of it? If not, you should be. Here's why. The Filene Research Institute recently concluded its incubator loan project in December 2017, with ITIN lending being the most popular segment of the experiment.
The program introduced the following five loan packages to immigrants/minorities:
Automobile refinance loans
QCash small-dollar loans
Micro-finance small business loans (community-based)
Payday payoff installment loans
ITIN lending
To make these loans possible, credit unions used targeted data mining and alternative relationship factors in addition to credit scores, alternative data, and ITIN numbers rather than Social Security numbers as a basis for identification. And while this segment does carry risk, it can be measured. Plus, the numbers speak for themselves."
To continue reading about ITIN Lending & Compliance, head over to Credit Union Times website HERE.
Oak Tree has been a leading provider of credit union forms and disclosures for over 37 years. Contact us for information regarding our forms or marketing services.