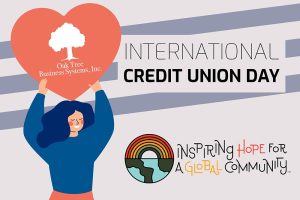 On October 15, 2020, credit unions all over the U.S. celebrated the 72nd International Credit Union Day 2020! The theme this year was "Inspiring Hope for a Global Community."
The first ICU Day was celebrated in 1927 by the Credit Union League of Massachusetts. After a few years of not celebrating the holiday due to rapid growth and change in the credit union industry, ICU was established on the third Thursday of October.
ICU Day is a day of recognizing the CU global community, celebrating the progress we've made with the #CUmovement, and giving back to the people we serve.
Although 2020 has brought many challenges, credit unions have shown true resilience. We have been in awe of the work CUs have done for their communities in the last few months, and how the #poeplehelpingpeople movement has only gained speed in the face of the COVID-19 pandemic.
There is no better way to celebrate ICU Day than by featuring some of our #CUfamily and the ways they are celebrating!
A+ Federal Credit Union showed their spirit for ICU Day by driving in a parade for the Austin Habitat for Humanity.
Georgia United Credit Union donated $5,000 to four area food banks for their #fighthunger challenge.
Maui County Federal Credit Union packed 554 bags of emergency food for the Maui Food Bank.
Delta County Credit Union paid for lunches at local restaurants for #CULunchLocal.
Linn Area Credit Union is raising money for United Way of East Central Iowa.
Northeast Credit Union gave our $5 to lucky members.
Synergy Credit Union made a $100,000 donation that will be distributed among more than 30 schools in West-Central Saskatchewan.
United Savings Credit Union is matching donations up to $1,000 until October 30th for Great Plains Food Bank and the Becker County Food Bank.
Don't forget to check out our 2020 ICU Day YouTube video.
We are elated that there is a holiday to celebrate the credit union movement, but we all know the great work CUs do doesn't stop there. We like to honor the #CUfamily every week in our #HumanitarianHighlight blog posts!
Oak Tree is proud to be a part of the #CUmovement. As a credit union partner, you can count on us. Contact us today for your compliant and member-friendly forms.