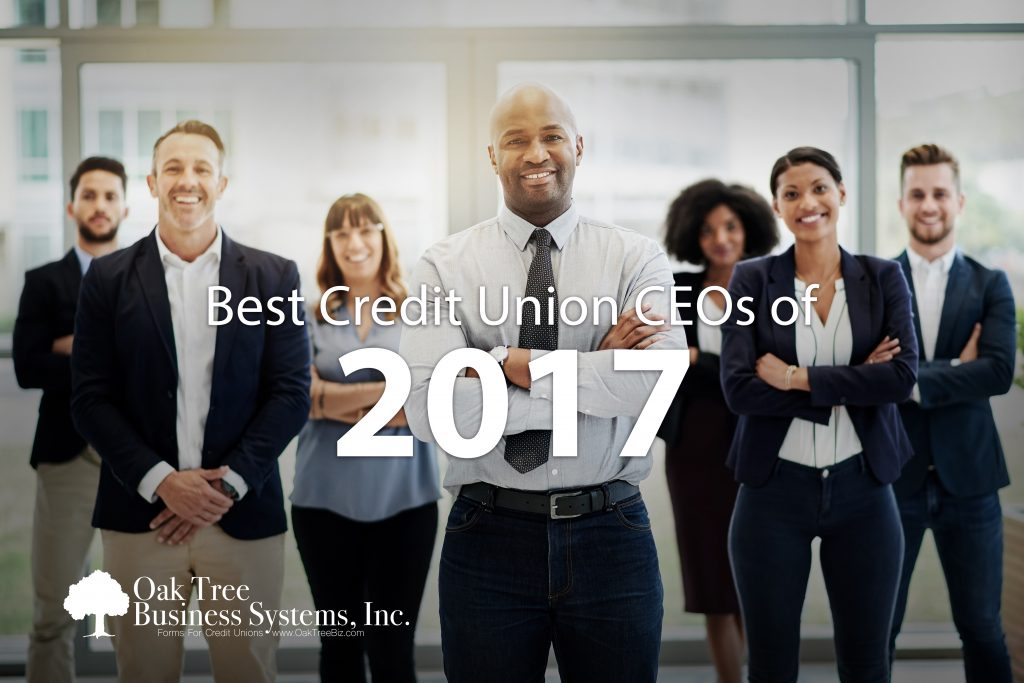 For the credit union world, the eventful year of 2017 is now a thing of the past. When we take a look back at the past twelve months we remember the highlights and bright spots from around the industry. Credit unions who saw success were recognized, as well as the individuals who helped facilitate accomplishments and achievements. is your CEO on the list of Best Credit Union CEOs of 2017?
It goes without saying that in order to prosper in any industry, it takes a team effort. And although it may seem a bit cliché, it is true. Everyone must do their job to the best of their ability to create cohesiveness and keep everything operating smoothly. This all doesn't just happen out of nowhere or overnight. Strategy and direction for a team or close working community all come from somewhere and that place is usually at the top.
With credit unions and most workplaces, the CEO is tasked with creating an environment and culture unique to their situation that can provide the most efficient plan of attack to developing success. In most cases, you can say that they are the most valuable member of a team because of the types of characteristics they must possess.
In 2017 there were plenty of standout credit unions that owed much of their success to the credit of their CEO. This came in the form of awards and other means of recognition that we would like to highlight. Take a look at some of the best credit union CEOs of 2017.
NAFCU CEO of the Year, CUs with assets of $250M or less
Daniel L. McGowan Jr., Pioneer West Virginia Federal Credit Union

NAFCU CEO of the Year, CUs with assets of more than $250M
John D. Unangst, Franklin Mint Federal Credit Union
Mayor's Award, Rochester Hills, MI
Tom Dluzen, Chief Financial Credit Union
City of Lawrence Good Scout Award
Kevin Ryan, Financial Center First Credit Union

NWCUA Awards
Tom Johnson, STCU- Lifetime Achievement
Connie Miller, Icon Credit Union- Advocate of the Year, Idaho
Gene Pelham, Rogue Credit Union- Advocate of the Year, Oregon
Jeff Kennedy, TwinStar Credit Union- Advocate of the Year, Washington
Lifetime Gonzo Credit Union Leader, GonzoBanker
Doug Samuels, Space Coast Credit Union
Most Admired CEO, San Diego Business Journal
Teresa Halleck, San Diego County Credit Union
California and Nevada Credit Union League Awards
Teresa Freeborn, Xceed Financial Credit Union- Lifetime Achievement Award
Richard Cooper, Mendo Lake Credit Union- Distinguished Service Award
Dennis Flannigan, Great Basin Federal Credit Union- Distinguished Service Award
Diana Michaels, Western Health Care Federal Credit Union- Eternal Flame Award

Carolinas Credit Union League Awards
Dorinda Edwards, American Partners Federal Credit Union- Lifetime Achievement
John Radenbaugh, Carolinas CUL- Lifetime Achievement
Cathy Pace, Allegacy Federal Credit Union- Individual Achievement Award
Other Mentions
Individual awards are not necessarily the only thing that sets a credit union CEO apart from the rest. We looked at CU Journal's list of top credit unions to work for to recognize a few more CEOs because as we mentioned before, creating a desirable work environment starts at the top. Take a look at the top 5 credit unions from the list.
Consumers Credit Union
CEO: Kit Snyder
Texas Tech Federal Credit Union
CEO: Chris Hutson
Bay Federal Credit Union
CEO: Carrie L. Birkhofer
One Nevada Credit Union
CEO: Bradley Beal
Michigan State University Federal Credit Union
CEO: April Clobes
Thank you to everyone on our list for continuing to prove why credit unions are a step above when it comes to financial institutions. We also invite you to let us know who else deserves to be recognized for their leadership efforts because we know there is no shortage of excellence around the credit union community.
Oak Tree knows the significance of important leadership. As a leading provider of compliant forms and disclosures to credit unions for over 35 years, we know what it takes to create a successful working and business environment. See for yourself by checking out our products and services page, and sending us a message. We would love to hear from you!