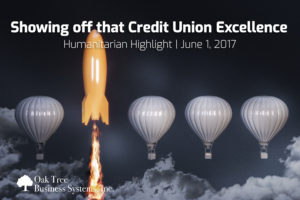 For this week's Humanitarian Highlight we're looking at #CreditUnions practicing that #CUExcellence! Let's see how they are showing off that credit union excellence!
Beach Municipal FCU awarded 2,500 dollar scholarships to two students for academic excellence
Army Aviation Center Federal Credit Union donated over 17 thousand dollars to the Cystic Fibrosis Foundation
Scott Credit Union raised 15K for Autism Awareness Month!
Great Lakes Credit Union donated 3,000 dollars to A Safe Place in Zion, a safe haven for abused women
Gerber Federal Credit Union awarded a credit union member with 100 dollars in Fremont Fun Cash
Collins Community Credit Union raised over 1,800 dollars for Camp Courageous
Thank you Credit Unions for being the best!
(note: this is an older blog entry and has been edited since originally posted.)