Humanitarian Highlight 6.29.17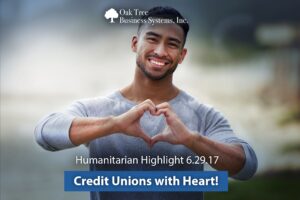 Yet another #HumanitarianHighlight boasting about the #CUExcellence these #CreditUnions show off! More credit unions with heart! Look at what's happening lately:
Nutmeg State Financial Credit Union donated 5 thousand dollars to Duffy Elementary School!
Franklin First Federal Credit Union awarded Mohawk Trail Regional School a thousand dollars for its participation in the "What are Credit Unions?" contest.
Oregonians Credit Union participated in the "Polar Plunge" and raised 4 thousand to benefit Special Olympics Oregon
PSCU partnered with Free Arts for Abused Children of Arizona
The employees for GCS Credit Union raised 1,179 dollars in a month to benefit the Got Your Six Support Dogs program
Alaska USA honored 60 members of Alaska's armed forces and held its annual military appreciation breakfast
These credit unions and their employees deserve recognition for going above and beyond to put #PeopleOverProfits. Congratulations to all the credit unions!
(note: this is an older blog entry and has been edited since originally posted.)