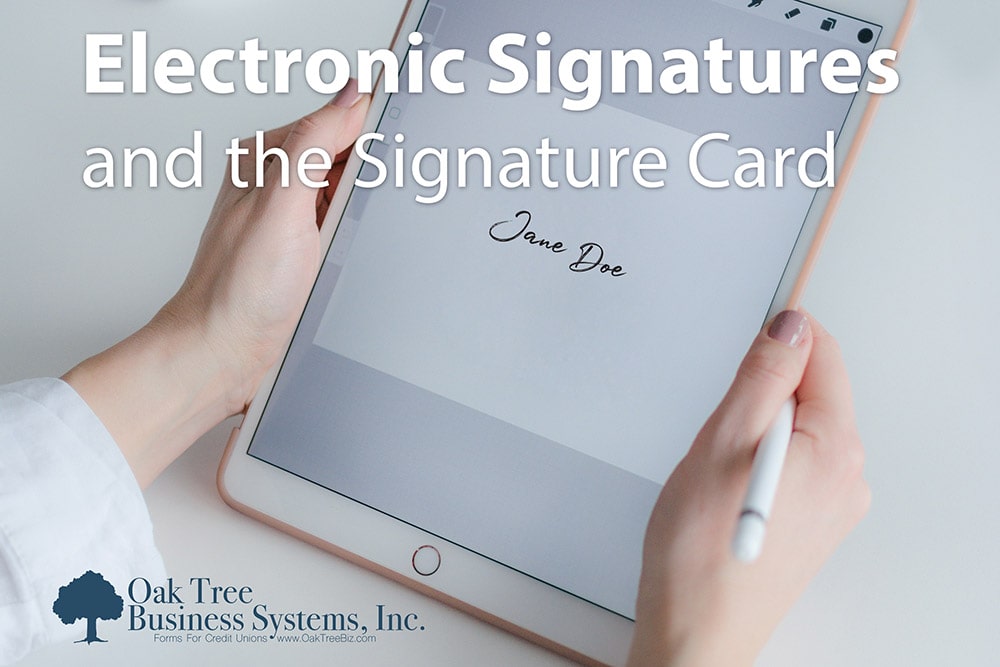 There is a myth floating about, creating quite a stir among credit unions. Many credit unions are under the assumption that in order for a member to be installed, they must have a signature card on file. Failure to do so prevents the individual from becoming a full-fledged member. However, this is not the case. Let's dig deeper into electronic signatures & the signature card.
The Truth about Signature Cards
While it is true that a signature card must be kept on file, obtaining it immediately is not a requirement. In addition, according to the Electronic Uniform Transactions Act, it may not be required at all. Forty-seven states have adopted the law, which is an attempt to harmonize paper retention requirements against the validity of electronic signatures.
Obtaining New Members with Electronic Signatures
If your credit union resides in one of the 47 participating states, an electronic signature is all you need. This is helpful to understand for a few reasons. First, it could help drive membership growth online. If your credit union staff has been apprehensive in the past about pushing online applications due to the rule, understanding the validity and veracity of electronic signatures changes things.
Second, this buys some time for you. If you are in a state where a hard copy signature card is a must, have your members fill out the application online and come in later at their convenience to sign the card. They have to come in for credit union transactions, anyway. Your staff is going to see them face to face. Yet, all that is required for membership is a valid application and account number. Once you have those two things, you have a new member.
Capturing Member's Signature
One of the main concerns with digital signatures is that most people's "digital signatures" don't match their "wet signatures." This becomes important when it comes time to verify whether or not the member actually signed something (i.e. situations involving fraud). In those cases, the member's digital signature would likely not resemble his manual signature; in which case, there would be the need to rely on evidence that's predominantly circumstantial to verify the validity of the signature. Credit unions could verify the identity of their member's signature through a variety of ways such as a current copy of their driver's license, passport, log-in I.D., secret question and answer, SMS code or third-party authentication service, or other forms of identification approved by the credit union.
Preparing for New Members
Our new member forms packet contains all of the forms you need to install new members. They are safe, secure, and integrate easily with your data processor. We hope this sheds some light on the issue for you and your staff. Don't let the signature card myth keep you from membership growth.
Questions? Chat with us at www.OakTreeBiz.com or email us at ClientServices@OakTreeBiz.com.