Credit Union Marketing Corner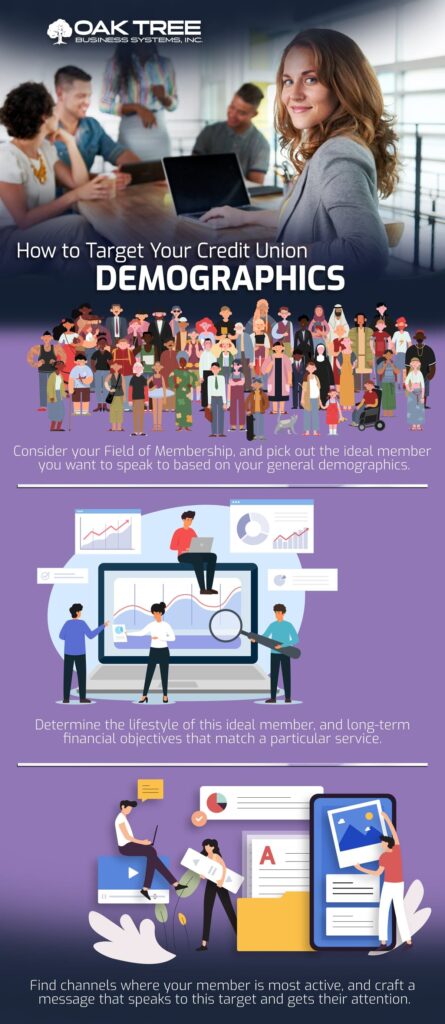 Every financial institution can improve on the success of some aspect of its services, whether that aspect is consumer lending, home equity lending, or savings and checking accounts. Sometimes every service can use a little attention. To really understand what needs improvement you need to look at how it affects those who use your services. It is time to target your credit union demographics with marketing personas.
To get the results you want with marketing, you'll have to think of your services as individually unique as the people who need them most. No two services are the same. Seeing as they serve different needs, it's only fair to direct their benefits to a different targeted group.
This is where creating personas for your target members comes into play as a helpful technique to optimize marketing efforts, by saying the right thing to the right people in the right way.
You have the general demographics of your field of membership, and that is a good place to start. Getting super specific will not only help you understand the most effective content to spread, but it will also help your team work cohesively with the same vision.
Think of your target audience as one very specific person who dresses and accessorizes with pieces that fit certain characteristics. Give field of membership objectives a personality and a face in order to craft messages that speak more directly to them. Here are a few things to consider while crafting your target member profile:
Who is the ideal member from your field of membership for a particular service based on general demographics?

Greg has a good credit score and favorable mortgage payment history over the last 8 years. He could benefit from a Home Equity Loan.

What does this person do day-to-day, and what are attainable long-term financial objectives for him/her? How does this match what you have to offer?

Shannon has a part-time job, rides her bike, and is keeping up with her student loan payments. She could benefit from a consumer auto loan as well as debt consolidation counseling.

Where can you reach him/her? What interests can you incorporate your CU into? Does she/he use FB, Twitter, radio, etc?

Caitlyn is starting a freelance photography business from home, and she uses social media to reach her potential customers. You can reach her with interesting images on targeted social media boosted posts.
It is not hard to create the personas, and many find they create too many. You won't be able to create one for each type of member, and you really shouldn't. This is a tool to look at how the majority of them might be so you can better speak with a single voice. Be sure to follow our blog for more great marketing tips to help your credit union grow its membership or credit union lending!