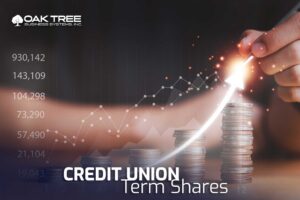 When looking for a safe, low-risk investment for extra savings, a term share or share certificate may be the way to go for your members. Share certificates offer competitive and sometimes even higher rates. So let's look a bit more into credit union term shares.
The deciding factors of the rate your members receive with their investment are based on the length of the term, initial deposit, and investment options. Typically, longer terms will earn more money than shorter ones because of accrued interest. In addition, the more money that a member initially deposits, the more benefits they may see at the end of the term.
When deciding whether a term share would be a good option for their money, members should consider early withdrawal penalties. Let them know that if they are certain their money will remain untouched for the duration of the term, they will see the quoted return on their investment. On the contrary, explain that if money is taken out (all or a portion) at any point before the term ends, it is important to consider term options and the early withdrawal penalties your credit union implements.
With that being said, a term share is an investment that is doable for most people because of its flexibility and the fact that they know what they're getting into. Members have the option of choosing how much, how long, and which rate they would like to receive. Another good point to bring up is that investments are federally insured by the NCUA up to $250,000 so there is no need to worry about the safety of their funds. Altogether it is a pretty sure thing with low risk and moderate rewards.
As a forms provider, we offer term share documents to credit unions with options available based on wants and needs. Many credit unions choose to incorporate their term share accounts in a master set of agreements and disclosures, while others opt to maintain a separate term share certificate account disclosure. Oak Tree is here to assist with whichever method you prefer. As a leader in providing compliant forms and disclosures to credit unions for over 30 years, we are willing to work with you and offer unparalleled customer service and support. Contact us at ClientServices@oaktreebiz.com or (800) 537-9598 for more information about our products.