The Secret Quality Control Weapon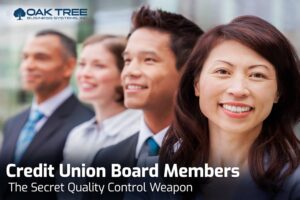 Credit union board members are tasked with a lot of responsibility. We understand that. You make decisions that determine the strength, stability, and direction of the credit union. More importantly, those decisions affect every credit union member. Credit Union Board Members and Oak Tree: A Winning Combination.
Yet, even with all of that, we know it can sometimes be a thankless job. Most may not understand that board members have a life outside of the credit union. Perhaps they assume board members are paid, which is a myth. Credit unions do not operate like traditional financial institutions. They are non-profit entities and board members are not paid. It's high-stakes volunteer work. Let's unpack this a bit.
Credit union executives are always looking for ways to improve service to members. They come up with clever ways to motivate staff, create a success plan for each quarter, and entertain vendors selling products and services to benefit members. One way they get these ideas are from conferences dedicated to training directors.
However, most decisions are in some way made or approved at the board level. While an executive might have a great idea or really be sold on a vendor, it is the board member who makes a final call. What does this mean?
In a nutshell, it provides an extra layer of security for staff and members. Board members discuss financials and process issues at meetings for sure. However, they also sift through requests from management regarding new vendor products and services.
Most board members have great working relationships with the credit union CEOs they serve. The relationship is built on mutual trust, and more importantly, one mission: make sure the financial needs of the members are adequately served.
This means they take a hard look at items like:
Quarterly Financial Reports
Membership
Lending
Services Offered
Security
Facilities
Staffing
One misstep could muddy the water or create difficult situations, particularly where vendors are concerned. If a vendor sells the credit union on a forms provider, for instance, board members are tasked with vetting the company before delivery, installation, and implementation can begin.
All of that said, we are proud of the work you do. Thanks to you, we continue to be one of the leading forms providers in the industry. With more than 30 years of experience, we continue to grow and adapt as credit union regulations change. Our forms continue to be up to date and compliant with all state and federal regulations, so when you choose us, we don't take it lightly. We consider it a job well done and look forward to providing you with our top-notch forms and marketing services.
When you pass a test at the highest level, you consider it a compliment. Oak Tree would like to thank you for letting us pass that test time and time again. Keep choosing us. We will make you proud, and even better, give your members a safe, compliant forms package every time.
If you are part of, or a director on the board of your credit union and need more information about forms, disclosures, or compliance solutions, chat with us at www.OakTreeBiz.com.