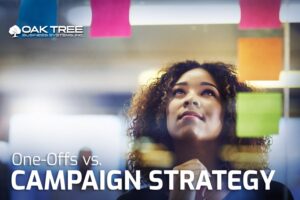 With your credit union advertising, there are many roads to take when creating materials to promote your services to your field of membership. You may have a strong digital presence that needs an added email for an upcoming rate change or promotion. You may have a print mailing relationship with your members and want to branch into the social media realm to gain additional markets. You may also have a minimal marketing strategy and a very strong word-of-mouth-community-driven membership and feel you would like to reach out with a more tangible approach.  The want of improving communication and contact with your community through marketing is admirable and can become overwhelming with the cadre of possibilities within the marketing sphere. It is good to know the effects of a one-off marketing piece vs. a campaign strategy. Here's our look at one-offs vs. campaign strategy.
One-Off Marketing: 
An example of a one-off marketing product would be a credit union mailing piece sent once or repeatedly sent to a targeted market – i.e. a credit union credit card advertisement that many receive a copy of once a month.  According to mycustomer.com "Single contact…a direct communication temporarily increases the level of sales among the target group but sales then fall." This means your returns and credit union growth rely on temporary spikes and uncertainty.  Credit union promotional mailers can cause a swift and short-lived increase in a certain service. These would be helpful add-ons to your yearly credit union campaigns for seasonal credit union promotion rate changes or consumer lending promotions with a Cinderella date. 
Integrated Campaign: 
An example of an integrated campaign would be a mixture of credit union mailing promotions, credit union targeted digital marketing, credit union e-mail blasts, etc. These campaigns can be used for short-term or long-term promotions and work well for yearly credit union marketing strategies.  According to mycustomer.com, "A single, well-targeted campaign can cause a high sales spike but generate modest incremental sales." Meaning, a structured credit union plan with a credit union targeted audience would be beneficial to achieve better marketing results.  Creating a credit union strategy to contact current and potential members through multiple channels with a moderated contact schedule brings an increase in conversion. For example, where a credit union mailer might bring a spike in services, a credit union follow-up email will increase that percentage.  Integrated marketing campaigns can be a more involved, analytic, and long-term option for an effective yearly credit union marketing strategy. Whether you have the time and energy to spend creating a coordinated strategy or a one-off mailer, it is important to collect and analyze the data from any effort done by the credit union marketing team. This data will direct your credit union towards reaching the right members at the right time and will teach you about your target audience's behavior. 
Take a look at marketing efforts done for an annual event: 
One-off marketing: Sending out an invitation to your credit union members through standard mail. This can achieve attendance and spread awareness of the event when timed correctly in accordance with the event date. Spike response closer to the date will keep for a short time without a follow-up that members may forget.  Integrated marketing: Sending out credit union invitations to members, sending properly timed email blasts to members as reminders of event time and date, posting on your credit union's social media about the benefits and progress of the event to engage the community and spark interest, etc. This strategy will spike response but also engage attendees and keep the date and interest.  With credit union budgeting coming up, these strategies will come in handy while sketching out next year's loan growth goals and your credit union's promotional efforts. Operation budgets are being stretched in the credit union industry to include the forward motion of the Credit Union Movement, according to CUTimes. Financialbrand.com suggests credit unions "start with 0.10% of assets as your baseline" for a marketing budget whereas webstrategiesinc.com suggests that the majority of credit unions increase their marketing budget each year from 5%-20%. Integrated strategy and strategic one-off add-ons to your current credit union campaigns coordinate lending promotions and growth.  One-off credit union marketing and integrated credit union campaigns are beneficial options for promoting financial services. Your particular goals are unique to your credit union's growth strategy. Oak Tree marketing services can help you decide the path that is right for your credit union's goals.
Chat with a credit union marketing specialist today and begin the journey of increasing your conversion and growing your credit union!