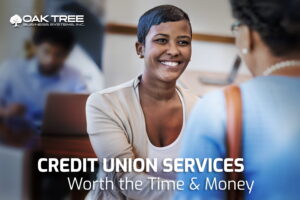 Are You Offering the Right Products?
Let's face it. credit unions offer a lot of financial services and market them often. Members may wonder if they are really worth it. The short answer is yes. Let's take some time and review credit union services that are worth your time, every time. This will help you convey the importance to your members. So what are some credit union services worth the time and money every time?

Multiple Savings Accounts
This is huge for members. Stress to members that opening multiple savings accounts is one of the easiest ways to gain total control over their finances. Most often, additional accounts can be opened free of charge. They are useful, too. One account can be designated for holiday savings, one for dream vacations and trips, one for home remodeling, and one for long-term saving. Putting money in different accounts allows members to see a comprehensive snapshot of their finances every time they log in. The snapshot overview is easy to digest and keeps them in control.
CDs
Most people shy away from CDs because of the traditional low rate of return. However, they can be useful if an individual is prone to spending their paycheck as soon as it hits the credit union, a short-term CD could be a member's best friend. Remind them it is a safe place to park their money. The only catch? They can't touch it until maturity, but they do get it back with interest!
Most credit unions offer mobile banking, but members may not understand the real value of your particular platform since they assume all mobile banking is equal. Stress to them the flexibility of the platform. Members can access the platforms from their smartphone or tablet. The various platforms give them flexibility. Also, be sure to highlight any extras your mobile service offers like rewards programs or discounts to local shops and retailers.
Lending
Many members fail to take advantage of the lending services offered by credit unions simply because they may not be aware. Myths and misconceptions abound too. Make sure your members understand they will get much better interest rates on loans from their credit union than with a bank or other financial institutions. Be sure to mention the scope of your lending services too. Home equity lending, automobile loans, and small business loans should be at the top of the list! Of course, we will be happy to serve as your forms provider
Business Memberships
When you have members looking to build or grow their business it is an opportunity for their credit union to show how they are ready to invest in their business. This can lead to more revenue for the credit union and goodwill with the members. Just as Oak Tree offers credit unions the consumer lending documents they need, we also offer the business lending and membership forms as well.
We have 37+ years of experience serving the credit union industry. For more information on compliant documents, call us at (800) 537-9598 or email us at ClientServices@oaktreebiz.com.