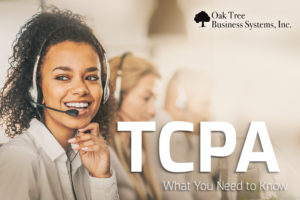 In 2016 we put out an informative piece on the Telephone Consumer Protection Act (TCPA) as we felt it was an important piece of legislation that credit unions should be aware of and careful to stay within its guidelines. Looking at just the surface it may seem like credit union executives can just ignore any changes to regulations concerning this act, but the fact is that many credit unions are affected by this law. This is why there was a CUNA letter sent in 2019 to notify the Federal Communications Commission (FCC) that they felt it was "outdated and harmful" for the members you serve. Many credit unions also use text messages when sending communications to their members, which is why there is an important incentive for us to watch how this evolves. So, the "TCPA -What You Need to Know" is now being updated to look at recent rulings and findings.
2016 Article
Over time, changes have been made to the Telephone Consumer Protection Act (TCPA). As a result, it is more important than ever to understand those changes, so that you are better able to guide your business through the compliance maze. To help, let's spend a few minutes unpacking the TCPA, so you can familiarize yourself with the current state of the regulations and their applicability.
The TCPA: A Brief History
Sometimes, to better understand new changes, it is helpful to go back to the beginning. History often provides necessary insight into current events, subsequently bringing clarity to the present. By way of background, the TCPA became law in 1991, at which time its primary purpose was to protect consumers from telemarketers who did not have a pre-existing business relationship, by regulating telemarketing calls and unsolicited faxes. The initial intention of the TCPA exempted callers from its requirements as long as they had a previous business relationship. For example, a credit union that conducted a telemarketing campaign to its own members would have been exempt from the TCPA. Due to amendments to the original TCPA, along with declaratory rulings issued over the years by the Federal Communications Commission (the FCC is the federal agency empowered to issue rules and regulations implementing the TCPA), the pre-existing business relationship exemption was ultimately eliminated and its application has been narrowed such that some callers may now fall under the auspices of the TCPA due to their internal business practices.
The TCPA is the law responsible for the National Do-Not-Call List, but recent FCC declaratory rulings have seemed to be making waves as the scope of its requirements has followed technological advances to areas beyond the reach of the original TCPA telemarketing and unsolicited fax protections. The original law made sure that consumers were protected against unsolicited telemarketing calls, which certainly made sense. We all remember getting those annoying calls just as our families were sitting down to dinner. It was generally agreed that the Do-Not-Call list was a good thing. Yet, as society progressed, our technology did as well. Regulations were subsequently developed and implemented for cell phones, and not just voice calls, either. Rules were added to keep consumers from receiving unsolicited text messages, too. The technology used to push these messages at consumers also greatly expanded, with autodialers and prerecorded messages allowing marketers to replace the old boiler room telemarketing operations with sophisticated computer technology that can relentlessly bombard consumers with marketing messages.
Impact of Declaratory Rulings
All callers that contact consumers at a cellular or wireless number for telemarketing purposes using an automated predictive dialing system or artificial or pre-recorded voice must now obtain prior express written consent from the consumer being contacted. In contrast, the written consent aspect does not apply to non-marketing contacts, and the caller needs only obtain prior express consent for these types of contacts. Manually dialed calls (where no automated predictive dialing system or artificial or pre-recorded voice is used) for non-marketing purposes do not require prior consent. In addition, manually dialed calls for marketing purposes do not require prior consent, provided the consumer has not placed his or her telephone number on the "Do Not Call List."
Callers that contact consumers at a residential (land) line face similar, yet slightly different, requirements. For example, only calls made for telemarketing purposes using an artificial or pre-recorded voice must obtain prior express written consent. Calls for purposes other than telemarketing that use an automated predictive dialing system, or manually dialed calls, are not subject to the express consent requirement. Of course, prior consent would be required for marketing calls that do not use artificial or pre-recorded voices if the consumer has placed their telephone number on the "Do Not Call List".
2016 TCPA Changes
Well, even with those safeguards in place, it seems further regulation was deemed necessary. The 2016 changes eliminated the prior business relationship exemption. There are exceptions, though. They are:
Emergency calls
Calls not made for commercial purposes
Phone calls made for commercial purposes, but do not include/introduce advertisements nor constitute telemarketing
Phone calls made by, or on behalf of, a nonprofit or tax exempt organization; or
Calls that deliver a "health care" message made by, or on behalf of, a "covered entity" or its "business associate," as those terms are defined in the HIPAA Privacy Rule.
Debt collection calls
Manually dialed calls with no pre-recorded message
Bottom Line
While it is likely that the majority of Oak Tree's clients will not need to concern themselves with the prior express (written or otherwise) requirements, only you will know for sure, after you have taken the time to understand the impact of the TCPA and the FCC's Declaratory Rulings on your telephone outreach operations. If you find that you are affected, Oak Tree has developed a stand-alone disclosure that covers the: (i) express written requirement; (ii) express requirement; and (iii) for good measure, a general consent to contact provision.
2021 Update
So, as we said in our new introduction to this topic, there have been many in the credit union community that have shared some opinion or view on the TCPA. In fact, we have seen many credit unions post disclosures on their website either stating how they cannot contact them without prior authorization or explaining their "opt-out" process. In 2020, NAFCU also put out an informative guide on "What is an Autodialer", where they also discussed petitions they supported in favor of granting credit unions more flexibility in how they communicate with their members.
Well, this year the Supreme Court of the United States (SCOTUS) gave a ruling in Duguid v. Facebook which affects the credit union industry. This ruling is a boon to credit unions as it allows you to use text messages in ways that will help your members and in how you communicate with them. The key, in this case, was that it was important to not randomly call individuals, but to use the technology in a way to a direct individual for a cause-specific to them is still legal and allowed. It would also be important to remember how the 2018 case affects the type of system you use as well, though. Many cases are going through the courts as well as so many being settled, such as one in Pennsylvania recently dismissed or the Fifth Circuit case. It can seem overwhelming to keep up with the many cases and changes just on this one law.
It seems that the rulings and regulations made since our 2016 article has been on the technology used, the purpose of the calls, and the recipients who receive the calls or messages. When it comes to regulations in the financial industry or even just business in America it pays to keep your attention on every change so it does not put your credit union in an issue of non-compliance. That is why it is great to have partners like Oak Tree Business which is always tracking these compliance changes and ensuring we keep your lending documents or other credit union forms in compliance with all state and federal regulations.