Printable Versus Digital Forms: A Different Process for Each in the Loan Process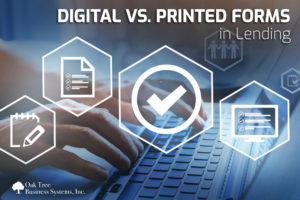 Credit unions today are all about options. Forms are no exception. While many use paper forms for the majority of their processing with no issues, digital forms can speed up the process by making it more efficient. Let's highlight the differences by comparing print versus digital forms in lending.
Printed Forms Loan Process
A member makes a loan request and is paired with a team member.
The team member explains different options to the credit union member and provides them with a loan application to fill out.
The member may fill out the application at the credit union or take it with them and return later with a completed application.
From there, the loan is underwritten and funds are supplied for the member to make a purchase.
This is how many credit unions have approached consumer lending for years. However, with an increase in member growth via membership rule changes and mergers, many other credit unions use digital forms as an integral part of their process, because it streamlines efficiency. Take a look at the section below.
Forms are stored online. A member may either make an inquiry in-person to a team member or inquire online.
If a team member is asked, they will point the client to the loan section of the credit union's website.
The member accesses the form online and provides the necessary information.
A team member follows up with the credit union member for processing and approval.
Clearly, digital forms are more efficient. They save time since credit union staff can point members to their website to fill out forms for pre-approval. A follow-up can be scheduled for a time that is convenient. Digital forms are productivity producers. Also, since the process is more streamlined, the potential for servicing more loans is very real. Digital forms can provide an indirect increase in lending growth simply because credit union staff have the capacity to serve more members.
The key is being able to market the service tactfully. Some members may feel like they are being discounted when asked to fill out a loan application online. Disabled members may also prefer print documents to digital documents. According to the National Federation of the Blind, an estimate of as many as 10 million Americans are blind or visually impaired, such as having difficulty reading or are unable to read letters in regular print, even while wearing ordinary glasses. It's all a matter of perspective, though. The fine line is the difference between shuffling a member over to an online portal versus presenting them with an easy-to-use online loan application process they can complete in their spare time.
Of course, there will always be those individuals who prefer printed forms to digital forms, and vice versa. That's why we provide compliant options for both. We work with any data processor and insurance carrier nationwide. If you have a question about how digital forms can streamline your lending process, we can help. Print versus digital forms in lending seems pretty clear cut, but you always have to look at your credit union's situation for any particulars.
Email clientservices@oaktreebiz.com for more information. We have almost 40 years of industry experience and are ready to put it to work for you.