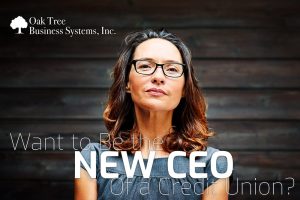 Have you ever wondered what it takes to be a qualified chief executive officer (CEO)? The simple answer is that it takes a lot. At the top of the list are schooling, confidence, determination, and work experience to accomplish the ultimate goal. Do you want to be the new CEO of a credit union?
Let's first lay out what a CEO does.
A CEO's role is regarded as one of the highest-ranking positions in a corporation. This entails making top managerial decisions. They manage the company's success and avoid failures. They are able to take on the complex challenges a credit union faces while being on high alert about what is going on in the industry. Also having an open eye for any opportunities that will tend to change helps.
How does that sound to you?
The transition from a regular job to a higher position can be a shock factor due to the many responsibilities the role entails. It is always smart to learn and absorb as much information as possible before taking the next big step. Looking at it from another perspective, being in a high position also comes with the cost of making sure that you are taking the right steps to ensure that the credit union you are leading will be successful. The role comes with a lot of responsibilities that include travel, representation of the company (looking presentable), and being confident in speaking to many people within the company and at events.
How can I feel more confident in an upper managerial position?
advice that we can give to anyone in the stage of wanting to change their position, is to learn as much as they can from the CEO. Ask to attend events, meetings, and interviews to see what kind of language is used and how to interact with different people.
You got this! Don't let anyone stop you from achieving this goal! Work hard and know that hard work pays off.
A note from Richard Gallagher, CEO of Oak Tree Business Systems.
"From the beginning of my career, I have worked my way up to the CEO position by working hard and learning as much as I could about the credit union industry. I have made my way up and have always had set goals of where I wanted to end up and wanted to accomplish. Coming in as the new CEO of Oak Tree Business Systems, I had a fresh mind and a new set of ideas to get the ball rolling. With my extensive background, I am thankful for all of the past work experiences I had to help me achieve a successful career. From where I am today, I look back at myself and would give myself a hand on the back for never giving up and always striving for greatness. There was a time in my position where I had an itch to travel all over the U.S. to talk to our clients and potential prospects for a way to introduce myself but to also get my name out there. I strive to always think of solutions and talk to fellow credit union families about what forms and disclosures they are lacking in their establishment.
Advice that I can give to future CEOs is to always want to learn. Be the first one at the meeting and the last one to leave. Get your name out there. Learn about every nook and cranny of the credit union industry. LEARN EVERYONE'S NAME! Be friendly and be present."
Time to ask yourself if you want to be the new CEO of a credit union and if you are ready to do what needs to be done in this pursuit.
On another note, Oak Tree continually refines its loan forms system to provide the best combination of compliance, practicality, and contemporary design. Oak Tree is committed to each individual credit union to work on your behalf in designing, producing, and supporting an effective lending system. We are fast, efficient, knowledgeable, mindful of costs, and dedicated to the credit union industry. Of specific interest is the continuing training and support we provide. You will have unlimited, free telephonic support in addition to our on-site activities. When you call Oak Tree, you always get real, live, knowledgeable people who will help solve your problems. Just like a CEO advocating for their institution, we got you covered!