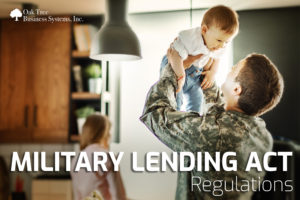 New Military Lending Act Regulations Recent Changes Regarding Military Lending At Oak Tree Business Systems, Inc., we pride ourselves in maintaining forms that are up to date and compliant across all federal and state guidelines. Well, it is time for us to "up the ante" with this latest regulatory change. Protections have been expanded for active-duty service members and their families according to the revised regulations of the Military Lending Act. Now, loan products offered by credit unions and other depository institutions are covered by these regulations. The new requirements will take effect on October 1 of this year. The mandatory compliance date is October 3, 2016 (and not until October 3 of the following year, and possibly later for credit card accounts).
Why Did The Regulations Change?
The reason for the regulatory change has to do with why the MLA was enacted, to begin with. In 2006, Congress discovered that most active-duty members often looked to subprime lending sources to help them get relief during a financial crisis. Even though the loan provided short-term relief, the high-interest costs associated with carrying the new loan would throw these families into a cycle of unsustainable debt. This added to the stress that service members already feel in general, and this added stress would trickle down to their spouses and children. Therefore, the MLA was established in 2007 to protect service members from predatory lending. The act was specific in that it only applies to active-duty members, and focuses on the following:
Payday loans of under $2000 with terms of 91 days or fewer
Non-purchase money loans with terms of 181 days or fewer secured by a motor vehicle title
Tax refund anticipation loans
The MLA protects the consumer by limiting the interest amount that an institution may charge for these services. This limitation comes in the form of what is known as a Military Annual Percentage Rate, or MAPR. Creditors may not charge more than 36% MAPR. This differs from APR significantly, because finance charges normally excluded under Regulation Z are included under MAPR. The New Changes The new regulation changes extend to all consumer loans, not just short-term payday or tax refund anticipation loans. Under the new rules, the only types of transactions not subject to MLA regulations are:
Dwelling secured loans, including loans to finance the purchase or initial construction of the dwelling, refinance transactions, home equity loans, home equity lines of credit, and first mortgages
Loans to finance the purchase of a motor vehicle when the loan is secured by the vehicle
Loans to finance the purchase of other types of personal property when the loan is secured by the property
So, What Does This Mean?
Essentially, it means that all of your forms must be updated to reflect the new changes, and kept up to date as each phase-in level date is established. You must be familiar with the new regulations to make sure that they are reflected in all of your applicable lending forms. Oak Tree Business Systems, Inc. will do just that. We will make sure that all of your lending forms are correct, include appropriate verbiage, and accurate, up-to-date MAPR so they are in compliance. Oak Tree is a leader in the industry with a proven track record of producing a compliant product every time. Give us a call if you have any questions regarding your forms, or if you are wondering how the new MLA regulations will affect your institution.
(note: this is an older blog entry and has been edited since originally posted.)