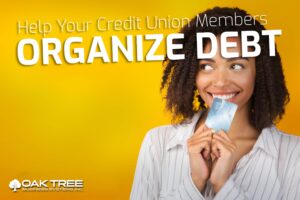 Debt can be crippling for your credit union members. The stress and worry can make it seem like there is no light at the end of the tunnel. Consolidation loans are a great way to help members organize debt. A consolidation loan can have many positive effects on members. Help Members Organize Debt with Consolidation Loans A consolidation loan combines several unsecured loans into a single loan. This new consolidated loan is usually used for the purpose of reducing monthly payments by having a more favorable rate. Oak Tree Business Systems, Inc. helps you offer consolidation loans by providing a superb consumer forms package. It is one of the easiest ways to offer your members a consolidation loan. The benefits to members are tremendous. Here are a few of the benefits of a consolidation loan, and how it can help members organize debt:
Help Your Members Improve Their Budgeting.
With a consolidation loan, members can combine several debts into one convenient monthly payment. This drastically simplifies their budgeting process.
Stress Reduction.
Nothing stresses out an individual like debt. It is a constant worry. A consolidation loan can relieve the pressure by eliminating the need to deal with several debtors at once. One payment, one entity to deal with. That's a good option to relieve stress.
Better Interest Rate.
This is a great selling point for you. Credit unions typically offer lower interest rates than banks on credit cards and other unsecured loans. This is music to a member's ears. Who wouldn't want a lower interest rate?
Credit Score Improvement.
Again, this is another important point to make when explaining consolidation loans to members. Credit scores improve when multiple debts are paid off at once. This will help your member out in the long run for future loans with lower interest rates.
Lower Payments.
This goes hand in hand with what we mentioned in points one and two. Lower payments are not only attractive; they help with budgeting and stress, too. What a great feeling to be in control of your finances! Remind them that these payments are lower because they typically offer more extended repayment terms than most other types of unsecured loans. Finally, remember to use your two-step checklist when dealing with a member or potential new member. First, he or she must be a member in order to obtain the loan. Second, a credit score check must occur to determine the amount he or she qualifies for. This information will also be used to identify which types of debt will need to be consolidated under the new loan. We offer a great suite of credit union forms packages to help you every step of the way. All of our forms are compliant and integrate seamlessly with your current data processor. This allows you to focus on what is most important, helping your members to achieve their financial goals. The loyalty and trust established by helping them will generate more gains for your organization. Buy Membership Documents and Consumer Lending Forms by emailing us at clientservices@oaktreebiz.com to help your credit union members organize debt and get on with their lives.